Chocolate Covered Strawberry Oats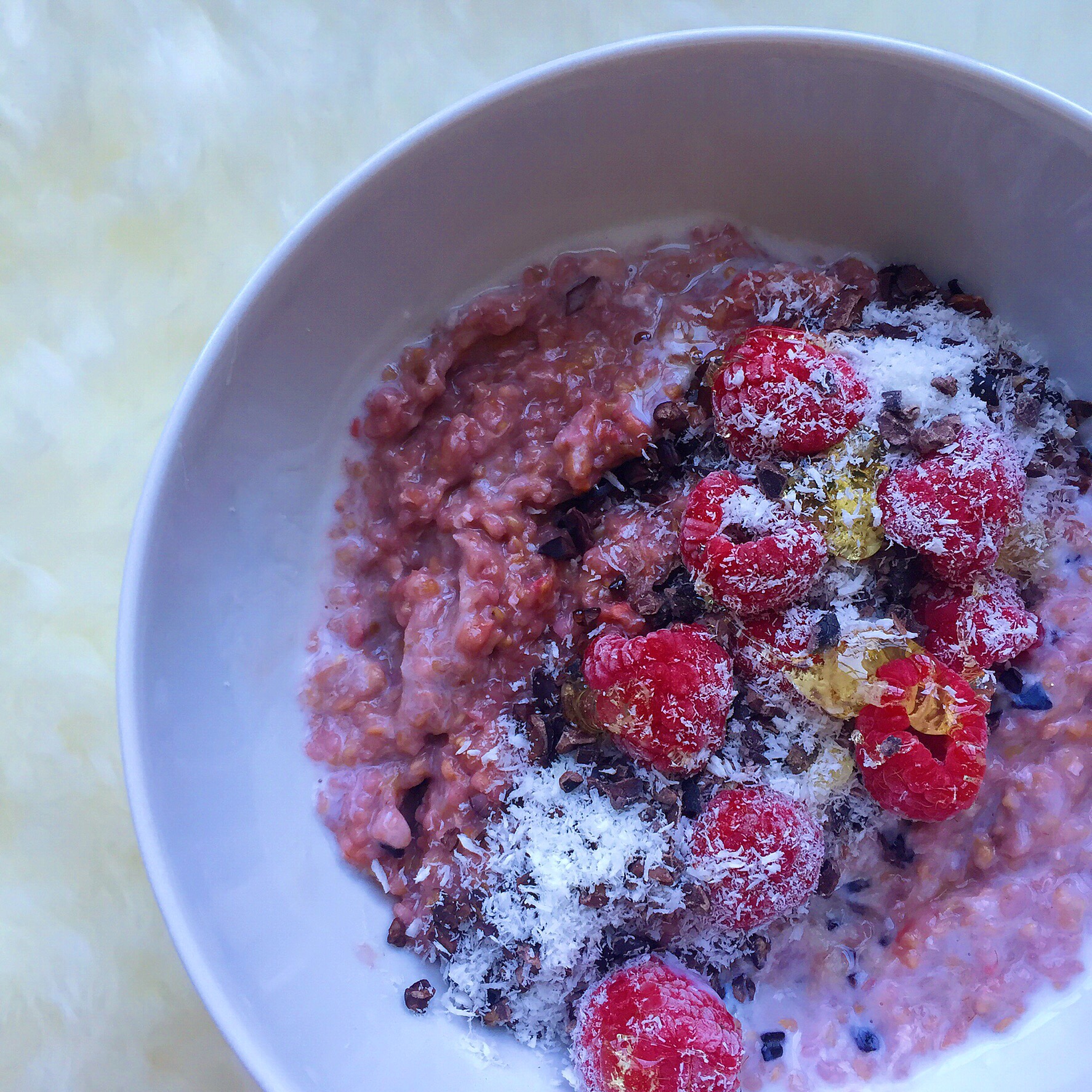 Chocolate covered strawberries have got to be my most anticipated + guiltiest pleasure to devour my own body weight in on Valentine's Day. #wherethegymat?
These oats right here are 1,000,010% inspired by the "bad" + reincarnated to be nutritious and beneficial to your body during this little lover's holiday spree!
To be honest, I was a little nervous to see how these oats ended up, but let me just tell you—I died and dove straight into chocolate covered strawberry heaven. #literally
These oats are so lucious and packed with strawberry antioxidants, vitamins + minerals and then tied all in by cocoa nibs that don't overpower the oats at all. Not to mention, these were made after my work-out class so YOU know that I was craving that good-good protein.
TRY THESE, please. I'm begging you. You have too, I love you!
I N G R E D I E N T S
1/3 cup Bob's Red Mill organic steel cut oats
1 ¼-2 cups water
1 egg white
½ large scoop Vega Sport protein powder
¼ strawberries, fresh, puréed
¼ cup Tempt hemp milk
¼ cup Siggi's Dairy plain filmjölk, drinkable yogurt
1-2 tablespoons Salbachia chia seed
1 teaspoon vanilla
1 teaspoon maple syrup
T O P P I N G S: frozen raspberries, coconut flakes, OMG! cocoa nibs + drizzled with Bee Free Honee!
D I R E C T I O N S
Combine oats + water, over medium heat, on the stove-top and cook oats normally.
Once oats are about done—stir in egg white until it is fully + thoroughly combined and cooked through on low heat.

S I D E N O T E: adding an egg white provides extra lean protein + creates a fluffy luscious oat texture—and no, you can NOT even taste it! #magic

Add remaining ingredients + remove from heat.
Top with all the goodies and E N J O Y!
xo4always,
Hazl